Alot of interesting things happen the morning of Nisei. Woke up super early to wake up the lazy ass. Meet up with the rest of the guys at Dennysbefore the show. They had a detailing van come out to detail there cars before the show.  We took a detour before heading to the show. Since the Mitsubishi Navi took us on a special route in LA.
Gotta  have your morning coffee. Hard working detail guy at work.
The whole crew finally arrives. Battle damage from driving around our great freeways.
R-Tech was also at Dennys. Jason taking the lead.
Jason taking us on a tour of LA. Until we took the lead and went to the show.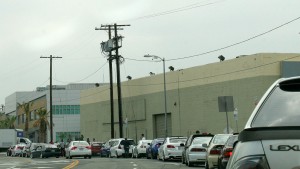 Lining up to get into the show.