Last week, I dropped my gun off with Jim Hoag to have some stuff modified.  I had just got it back and wanted to take it out for a test drive.  My buddy, Ian, wanted to do some indoor shooting so we head down to LA Gun Club.  I really like LA Gun Club because it's between me (Glendale) and 626, they have a wide selection of rentals, and they host a friendly diverse crowd (opposed to grumpy old rednecks).  On the other hand, it's in the hood (a block or two from Skid Row), you always got one of the homies shooting gangsta-style, and noobs tend to sweep their [unloaded] muzzles at you.
Anyways, as I was pulling into LA Gun Club, I noticed some activity with a handful of lowriders.  As I'm gawking and inching past them, my buddy, Long from DTM Autobody, recognizes my car.  I didn't know this but Mister Cartoon was based right next to LA Gun Club.  Long gave me a quick tour of Mister Cartoon's facility and I snapped a few pictures with my new Droid X.  Sorry for the uncharacteristically shitty pictures.  If I had my Canon SLR, I would have taken a ton more pictures instead of trying to fiddle with the slow ass camera on my phone.
I forgot the details on this car except it's going to SEMA in a few days.  Got a yellow Brembo GT big brake kit.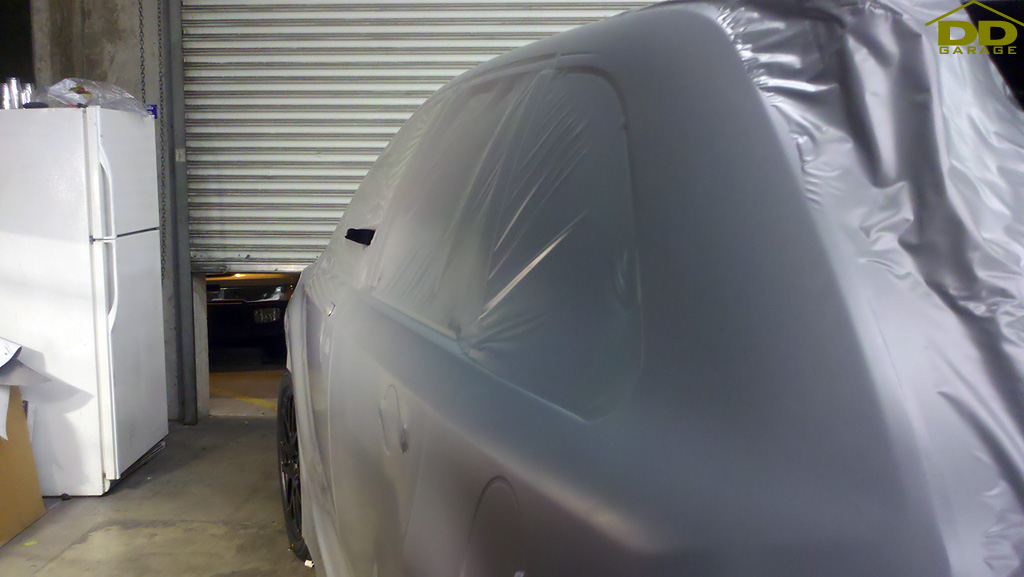 Some of Mister Cartoon's lowriders.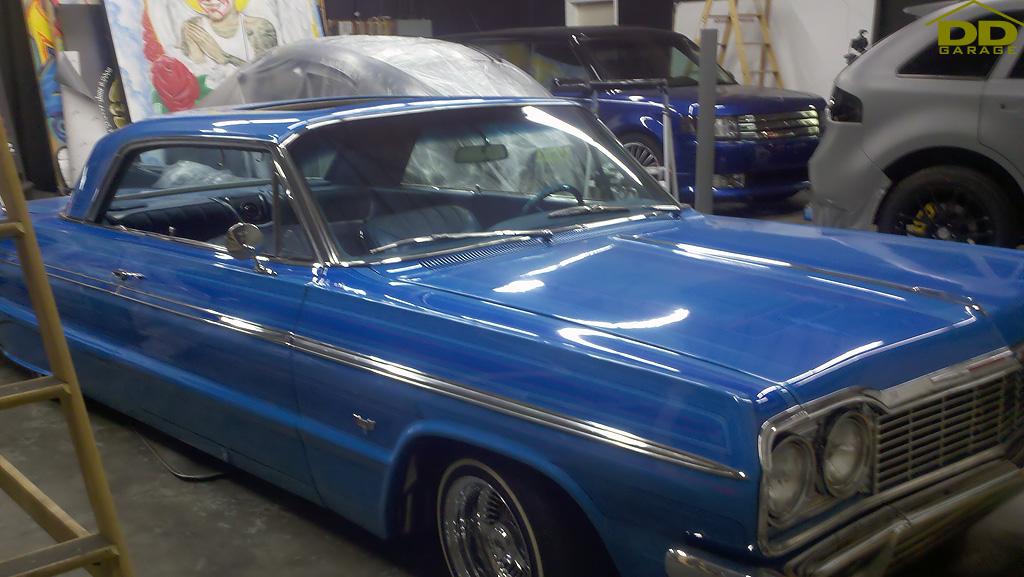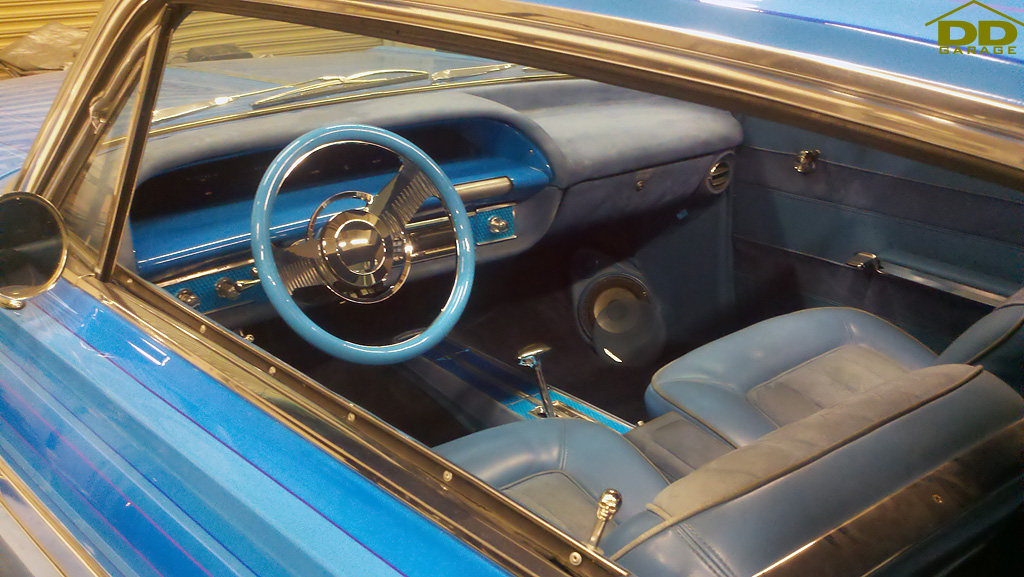 This is Mister Cartoon's tattoo parlor.  Apparently he charges like $5000 an hour or something like that.
About this time, Ian arrives so we head into LA Gun Club.  Besides shooting Ian's Glock 22 and my Kimber Custom II, we wanted to try out a .454 Casull so we rented a Taurus Raging Bull.  This revolver is a monstrosity.  It was meant not to shot by humans at humans.  It was meant to be shot by God at bears and other big game.  Seriously, jokes aside, .454 Casull was meant for big game hunting and not self/home defense.
Here is a picture of the .454 Raging Bull compared to my full-sized .45 1911 to Ian's full-sized .40 Glock.  A full-sized 1911 is a pretty damn big gun and it looks pretty tiny compared to the Raging Bull.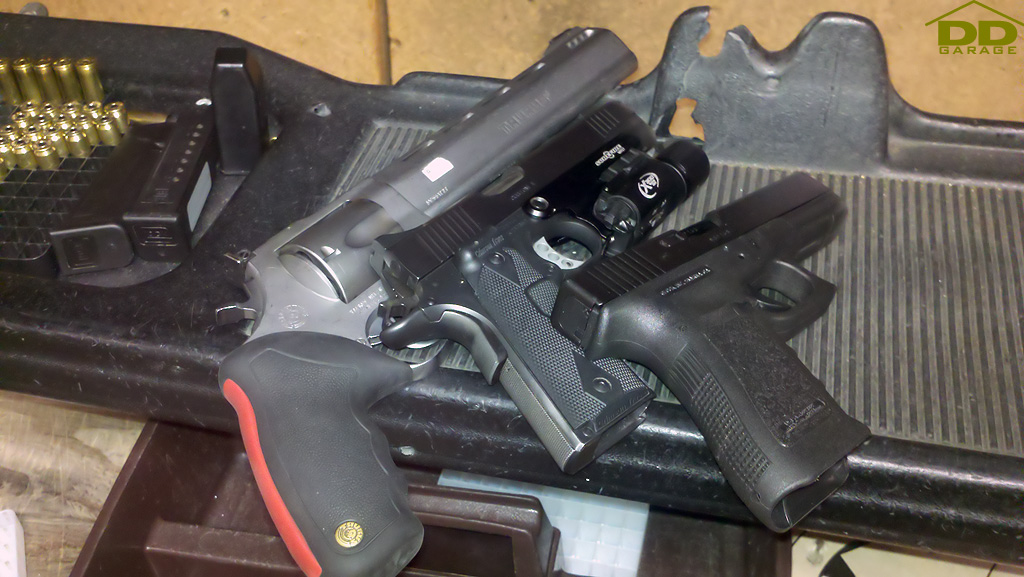 Seriously, if God had a handgun, this would be it.  People outside in the lobby were startled/jumping when I was shooting the .454.  All I felt was a lot of pain in my palms and saw a lot of muzzle flash.  Whenever I shot the gun, it was like if lightning or a camera flash hit the entire room.  As you can imagine, we had a little crowd of spectators wondering what kind of hand canon we were firing.
Spent casing of a .454 Casull compared to a .45 ACP.  As you can tell, there's a ton lot more gunpowder in the .454.
We also rented a M1A, which is the civilian version of the M14.  The M14 is the last of the so called "battle rifles" firing full-power rifle ammo (.308 vs .223).  It was used in the first part of the Vietnam War until it was replaced with the M16.
I've always wanted to shoot the M1A (or any rifle/handgun that has a lot of history behind it).  I've always found it fascinating to hold and see a piece of history.  American soldiers were trekking around in the jungles of Vietnam with this rifle.  The only difference is that back then, they used wooden stocks.  Now, we use synthetic stocks (substantially lighter) and it's still heavy as shit.
After blowing a ton of money at the range, we had to make an obligatory stop at Daikokuya.  Tried their new "rich" (aka "extra fat") soup base and fried rice.  The rich soup base tasted great for a few bites and just go way too greasy.  The fried rice was amazing.
Daikokuya is by far my favorite ramen shop.  If you want some bomb Japanese ramen, you should definately check them out.  I have yet to try another ramen shop better than Daikokuya.  They have a handful of locations (Little Tokyo, MPK, Costa Mesa, etc…) but their Little Tokyo location is the original one and the best!
Daikokuya
327 E 1st St
Los Angeles, CA 90012
Anyways, that's it for today.  I'll be at SEMA next week from Wednesday through Friday.  Hit me up!